Today was my first day attending the 2015 Children's Literature Conference at Shenandoah University. This is a conference for teachers, administrators and librarians, but I also get so much out of it as a writer. I attended two years ago and this is by far one of my favorite conferences. Fun, professional and uber organized. After one day, I know I will be just as blown away this week as I was two years ago.
The day started out with one of the conference staff reading a poem by Arnold Lobel. It made us all chuckle, so I wanted to share it with you.
Books to the ceiling,
Books to the sky,
My piles of books are a mile high.
How I love them!
How I need them!
I'll have a long beard
by the time I read them.

I have an ever growing book pile on my bed side table that sometimes looks a mile high. Just not enough hours in the day, right?
I also found this poem on Owl Square Press as a print, if anyone is interested in hanging it in their writing studio. I might put this on my wish list for the holidays!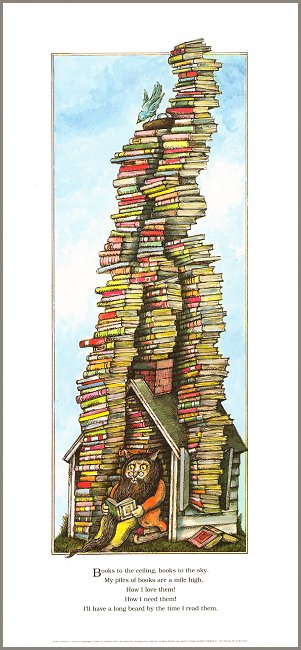 More to come this week as I pick up great tips from these fabulous authors and illustrators on the agenda. Just to name a few: 2015 Newbery winner Kwame Alexander, Creepy Carrots author Aaron Reynolds and Out of My Mind author Sharon Draper!