I've known for several months, but didn't want to make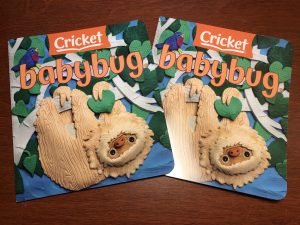 an announcement until I could actually hold the magazine in my hands. Well, guess what arrived in the mail?
The February 2021 issue of BABYBUG magazine … with a four page spread of my poem! AND it is illustrated by the talented Jaimie MacGibbon (jaimiemacgibbon.com & @jaimieillustrates). I can't tell you how amazing it is to have MY words paired with such beautiful pictures. A dream come true for sure.
BABYBUG is one of Cricket Media's award winning magazines and is comprised of read aloud stories for babies and toddlers.
I don't want to give away the finished product, but here's a little sneak peak from the top of the first page:

Don't you LOVE that dog illustration? I can't stop smiling.
This week I popped into a local public library that has a subscription to BABYBUG in their children's magazine section. Pretty cool to see the February issue on display with so many other awesome children's magazines!