It's Children's Book Week! Click here to read all the details.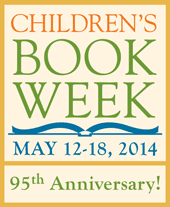 Here are some quick highlights:
This is the first year that official events will be happening in all 50 states! Check-out what's happening in your state.
A commemorative Children's Book Week poster is designed each year by a children's book author. The illustrator for this year's poster is Robin Preiss Glasser, of Fancy Nancy fame. Order a free poster here.
The 2014 bookmark was designed by Caldecott Honor winner, Steve Jenkins. He is the writer and illustrator of more than 30 non-fiction children's books. Download the bookmark here.