We are well into the school year here and summer seems like a distant memory. Looking back, our summer was busy and eventful with trips to the beach, a trip to Chicago and a trip to the emergency room! Oh my! We also had loads of time to relax and the "B" word (BORED!) was heard from time to time. I would direct them to our BORED sign on the fridge, which seemed to give them ideas. I would often find them later playing a newly invented game, getting crafty at our work table, running around outside or (yea!) reading a book.
The teacher in me couldn't help giving them organized tasks to complete when they were bored (although I called them "challenges" or "missions" to make them sound more exciting. Hee hee!). One thing I wanted to accomplish this summer was organizing my "What I've Been Reading" posts into age group categorizes. I felt these monthly posts could be a more effective resource for parents and teachers with that added information. But did I really want to look up that information on all my past posts? Not really. Enter three bored kids…
Kids: We're bored!!!
Me: Wonderful! I have a challenge for you! All three of you have to work together to research the age and grade ranges for all my past book recommendations on my blog! One person is in charge of calling out the book name, one person is in charge of looking up the information on the computer and one person is in charge of writing down the results on this clipboard. Go!
Kids: Um, Mom? That doesn't sound very fun.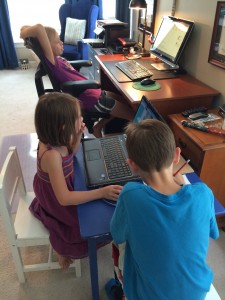 They grumbled at first, but once they got into it, they worked well together and completed my busywork…I mean, "the challenge". 🙂
So, now I am happy to say that all my monthly book recommendations are broken up into the following categories:
Babies and Toddlers: 0-2 years
Preschool: 3-5 years
Early Elementary: 5-8 years
Middle Grades: 8-12 years
Young Adult: 12+ years
These categories and where the books fall are subjective and based loosely on my research on other sites, such as amazon. Often a book will fall into more than one category, such as pre-school and early elementary. Also, you may have a 10 year old who still enjoys reading early elementary picture books or a 7 year old who's reading middle grade novels. It's all good. These are just intended to be a general guideline when looking for books for your children or students.
Happy reading!