We're wrapping up our last week of school here and as a teacher, I don't know who's more excited for the slower pace of summer – me or the kids! During summer vacation, I try to keep a good balance of activities and downtime with a continued, but somewhat relaxed, limit on screen use. When there is nothing going on and no screen to look at, I know the "B" word will come out of their mouths. You know…
"Mom, I'm BORED!"
My typical response is, "Good!" with a smile on my face. This usually elicits a big sigh, an eye roll or occasionally a dramatic flop to the floor. Hey, my philosophy is it's good to be bored. Kids need downtime, especially in this fast-paced society we live in. Kids need to slow down, breathe and take in the world around them. Being bored can lead to imagination, exploration, conversation, rejuvenation (ooo, I'm on a roll with the "ation" words!). They need time to read and write for fun, create, play, exercise, talk, listen, discover and just be kids.
I found this great acrostic for the word BORED (originally posted here on the blog I Lift Heavy Things) and I thought it might come in handy this summer. I made a free printable for you to tack up somewhere in your house to serve as a reminder that it's OK to be bored. Just look at all the things that can come out of it!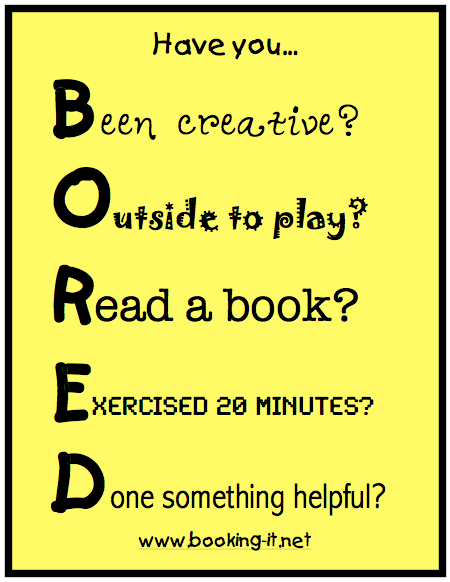 BORED printable

So when you hear the "B" word, just say, "Good!" and point to this sign! 🙂
I'd love to see pictures of where you've posted your BORED sign and hear how it's going with your kiddos.
Happy summer everyone!